On Friday, July 30th, 2021, I set out alone to attempt a free-solo ascent of the world famous Upper Exum Ridge (5.5 III) on the Grand Teton, also know as the Southeast Ridge. I met and joined forces with two like-minded Colorado climbers on the approach. Together as a group of three we completed a rope-less ascent, with a subsequent down-climb of the Owen-Spalding Route (5.4). Read on for the full story of my most memorable Teton climb to date, with a few history tidbits thrown in.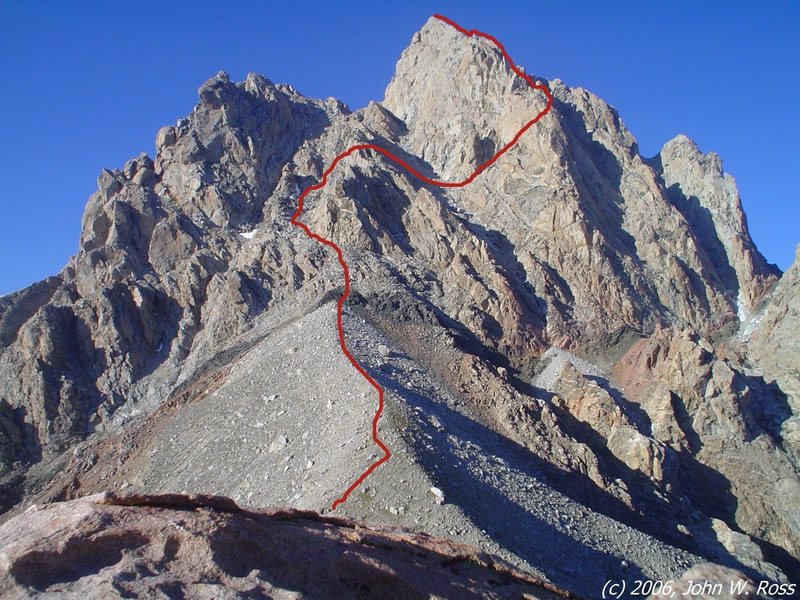 Introduction
First ascended in 1931 by the legendary Glenn Exum, Exum Ridge is arguably the most classic route in the Tetons. The route follows the upper half of the prominent Southeast Ridge, with five-ish pitches and 1,000 feet of technical elevation gain. Rated slightly more difficult than the Owen-Spalding Route to the west, Exum Ridge is the second most popular path up the 13,775 foot Grand Teton. Unlike the "OS" (Owen-Spalding), this route sees few free-solo ascents, mostly because of one especially exposed notch traverse known as the Wall Street Step-across. Glenn Exum famously (and quite outrageously) jumped across this approximately six foot gap on his first ascent, with a multi-hundred foot tumble looming beneath his leather cleated football shoes. As the story goes, he walked across the ledge seven times before committing to the inconceivably daring maneuver*. In modern times nobody dares leap the Step-across. Instead, Exum Ridge prospectors opt for one of two ledge traverses, "upper" and "lower", both relatively easy but sickeningly insecure. After conquering Wall Street, four distinct pitches of fifth class climbing and several long stretches of fourth class scrambling lead up the extraordinarily scenic ridge to the summit of the Grand Teton. Several easier and harder variations exist on the expansive crest, making navigation a real challenge. In fact, we unknowingly bypassed the uppermost "V-Pitch", instead finding ourselves in a matrix of fourth and fifth class chimneys to the east, above the Ford Couloir. The west face rappels are the most common choice for retreat, but without rappel gear we opted to down-climb the shorter and slightly less technical 600 foot OS Route. Anyone who intends to down-climb the OS should either be personally familiar with the route, or carry a very detailed topographic map. Just like Exum Ridge, route-finding can be difficult on this vast and broken face. A wealth of invaluable information, images and detailed maps of both routes can be found at: http://wyomingwhiskey.blogspot.com/
The Climb
After two days of heavy rainfall and flash flood warnings threatening by mid-afternoon, I had a narrow sunny window for safe alpine adventuring. Ordinarily I'd have waved the white flag in the name of desperation, but with wrist scaphoid surgery beckoning in the near future I was motivated to squeeze every last ounce from the remainder of my climbing season. Having climbed the OS twice before, I was intrigued by the slightly more difficult, longer and sustained Exum Ridge. However, since I was traveling solo and rope-less, conditions would need to be absolutely perfect. The cruxes of Exum Ridge are mostly slab, relying on the friction between granite and sticky rubber climbing shoes to connect me to less than vertical rock. Wet rock equals less friction. Less friction equals higher likelihood of error. In the most difficult places, to slip is to die. Climbing without a rope requires perfection. Free-soloing is taboo for this very reason – there are no second chances. Unlike Exum Ridge the OS is mostly chimney climbing, with far more "secure" and "positive" handholds and footholds. Dry and sunny is preferred for all styles of climbing, but the OS has a higher margin for condition variability. For these reasons, I decided my Exum Ridge escapade would be a game time decision. I packed 60 meters of 5 millimeter cord, some webbing, rappel gear and a light skimo harness for emergency retreat. 5:30AM – game time.
Approach
Approaching all the south and west face routes on the Grand Teton involves four miles of nicely manicured trail followed by another three-to-four miles of brutal bouldering, loose scree scrambling and fourth-class shenanigans. I made excellent time for the first four miles, enjoying an absolutely spectacular sunrise from the Garnet Canyon trail and clocking just under 90 minutes to the meadows. To my surprise, most of the rocks in Garnet Canyon were dry by first light. Shortly after veering onto the Lower Saddle climber's trail, I was overlapped by two young Colorado climbers I'd met earlier at the trailhead. Joe and Brian were also planning to free-solo Exum Ridge. Their confidence permeated my subconscious. We walked together for less than five minutes before deciding to join forces – I needed the encouragement, they needed the approach beta. Getting to the base of Grand Teton climbs is notoriously cryptic and confusing. I would guide us to the base of the climb, and they would provide the stoke for my ambition.
The beginnings of Exum Ridge are marked by Wall Street, a prominent sidewalk sized ledge perched on the eastern wall of the Wall Street Couloir. Accessing Wall Street involves climbing the standard approach trail for the Upper Saddle/Owen-Spalding, passing through the "Eye of the Needle" and immediately veering east up a prominent fourth class gully. This gully leads to the crest of the Wall Street Couloir, with the Wall Street ledge staring back directly across the way. We got turned around a few times following vague false trails, but we generally made excellent time to the base of Exum Ridge, somewhere in the four hour range – not too shabby for a torn ATFL only five weeks ago!
Exum Ridge
As stated above, the mental crux of Exum Ridge is the Wall Street Step-across. As I laced up my climbing shoes and re-upped on calories, I was surprisingly calm despite the exposure. With a grade of 5.5, I knew the route was well below my maximum climbing grade of 5.11. Obviously, this is exactly what a free-soloist is looking for. If you're going to forgo the rope, it better be damn near impossible to fall. To climb unprotected anywhere near you're limit would be suicidal. Even though I could basically climb 5.5 with my eyes closed, the mind can play tricks on you with hundreds of feet of empty exposure below. The Step-across is about as airy as climbing gets – short of El Capitan. The "hands" (handholds) are thin and the "feet" (footholds) only textured smears, meaning you need to press the soles of your climbing shoes against a less than vertical wall, relying solely on friction for attachment to the mountain – imagine standing on the very steep roof of a house, toes and calves engaged to maintain balance. Mental blocks aside, in the words of a volunteer national park climbing ranger I met later that day, "all the moves are there." With thoughtful and precise footwork the lower ledge is easily negotiated, and only two smears are needed to reach a reliable right foothold. I breathed slowly and steadily as I pasted my feet on the granite crystals and shuffled my hands across the rail of finger-holds to maintain balance. I didn't even look down. I could feel the cold open air beneath my heels, but my mind didn't flicker. I executed the Step-across flawlessly and reached far right for a huge jug in the fractured corner. Securely grasping two large blocks I glanced beneath my legs and reveled at the views stretching thousands of feet into Garnet Canyon. I hauled myself over the lip and back onto the eastern side of Wall Street. Without the slightest raise in heartbeat, I was across the famous maneuver that regularly turns around roped parties, let alone free-soloists.
One of the appeals of free-soloing is feeling comfortable and centered in a scenario that most everyone would perceive as dangerous and insane. On one hand I was literally centimeters, or one off-move, from a gruesome and unnecessary death. On the other hand, I was so mentally calibrated and sure of my abilities that I could literally smile amidst the pressure – glued to the mountain – free as an eagle in the Teton sky. On the Golden Staircase (5.4), positioned directly above the Step-across, I paused on the delicate and wildly exposed slab and exclaimed "this is the coolest thing I've ever done in my life!" Without exaggeration, the grippy and over-featured pitch of knobby golden rock is one of the most interesting walls I've ever scaled. After the Golden Staircase the grade eases off, where several hundred feet of fourth class meanderings take you to pitch three, the Wind Tunnel Gully.
The Wind Tunnel Gully was more confusing than anything else. A belay could have been useful in a few places, but mostly the large gully provided short-stretches of easy soloing separated by many large ledges. Many options exist to conquer this pitch. At points Joe, Brian and I divided to find the variations that suited our climbing strengths. At the base of the tunnel, Brian opted for a bulging hand-crack boulder problem where Joe and I traversed east for a left-leaning flake system. Just above Brian took off again, squeezing up a secure but awkward off-width where Joe and I pulled one tricky manuever to gain easier face climbing to the east. A friction slab with a few cracks looked viable to the west. Basically, the Wind Tunnel Gully is a "choose your own adventure" kind of place, and each of us climbed it slightly different.
From the top of the Wind Tunnel Gully the Friction Pitch becomes obvious. The 5.5-R crux is a narrow golden slab rising high towards the proper ridge line. An obvious dihedral on climber's right is called the "Puff N' Grunt", rated at "5.6-ish**" and mostly used to identify the Friction Pitch. When roped, the Friction Pitch is given an "R" rating because of it's unprotectable start. If one was roped, the first pieces of thin and questionable protection are at least twenty feet off the ground, in a small seam to the right. When soloing, every pitch is rated R. The slab reminded me of the Golden Staircase but steeper, with slightly thinner holds and a definitive crux about halfway up. Good hands fade after about ten feet, where careful and exposed smearing is needed to reach a prominent knobby jug on the center-left. Once the knob is gained the holds get substantially more positive, and eventually the gradient eases off. A low-fifth class seam on climber's right marks the technical conclusion of the Friction Pitch. The crux smears were the only five seconds of elevated heart-rate I experienced on Exum Ridge. Committing to the textured feet without any hands to grasp was the ultimate demonstration of faith in my abilities. My guidebook eluded to easier climbing left, but I didn't see any.
The V-Pitch was last on the docket, but unfortunately we never found it. Upon further review, the left facing dihedral is hidden quite well on the west side of the ridge, marked by a prominent step of black rock. Brian and I pointed out the pitch, Joe even climbed a few feet of it, but without complete certainty we backed off and explored climber's trails to the right. After the Friction Pitch, several options abound for gaining the summit crest. An "easy bypass crack**" runs just up the slab to the right of the V-Pitch, and a good half-dozen gullies lie further to the east. Following the footsteps of two other parties we wandered through the matrix of fourth and low-fifth class terrain, connecting many small corners, chimneys and slabs, generally following the path of logic and least resistance. Everything east of the V-Pitch is likely snow covered until Mid-July. Occasionally we'd get over our heads and back off, troubleshoot and try again. After a brief detour to climb the iconic V0/V1 "Boulder Problem in the Sky", an epic twelve foot boulder perched directly on the summit ridge amongst a litter of otherwise small talus, we scrambled to the broad summit just before the six hour mark – 11:30AM – not a cloud overhead.
Owen-Spalding & Descent
We met two other parties on the summit, a group of two traditional climbers and one Exum soloist from Poland. For how nice the weather was, I was surprised there weren't more. We took our time on the 13,775 foot perch, calling our girlfriends, munching and snapping photos. The views from the top of the Grand Teton are nothing short of spectacular, but after a summer filled with western smoke pollution, this rain-cleansed day was especially prized. With my prior experience I lead the entirety of the descent down the Owen-Spalding Route. Even though I carried a rope sufficient enough to rappel the west face, Brian and Joe were without proper gear and as such, I decided to play mountain guide for the afternoon. Plus, I believe down-climbing is the lost art of climbing – almost never is the skill needed, but when it's needed, it's really needed – best to practice. Without getting too far into the weeds, our trio reversed the four pitch, 600 foot route efficiently, opting for the northern Sargent's Chimney and Catwalk variations. Compared to three years ago, scurrying down the OS felt smooth and easy, the exposure casual and all the technical moves routine. The slab crux beneath the Double Chimney always perks my attention, but good handholds help quell the nerves of massive exposure. By 12:30 we were safe on the Upper Saddle, swapping shoes and scarfing calories for the 7,000 foot knee-pounding scramble fiasco ahead.
Upon my request Joe and Brian abandoned ship and ran ahead. Only five weeks removed from a fully torn ligament, my left ankle was starting to bother me and as such, I was on the slow and steady protocol for the next few hours. About halfway down the Upper Saddle scramble I overlapped with Jarek, the Polish soloist from earlier. His knees were feeling the pounding more than my tarnished foot, so we teamed up to distract ourselves from the pain. Eventually the endless fourth-class maze gave way to gentle scree, which eventually gave way to rocky trail. We made use of the fixed hand-line to descend cliffs below the lower saddle and stuck together until the first sights of rain above the meadows. Thunder echoed and lightning cracked. Dark clouds filled the sky. Before long, the morning of heaven turned into the evening of hell as rain lashed viciously from the black sky, harder than I'd seen in five years of Teton exploring. The trail quickly turned to a small stream, filling my Gore-tex boots like a bathtub. Rockfall blasted down from all sides of Garnet Canyon. Rain jackets were of little use. Jarek peeled off to disassemble his camp from the night before as I forged into the storm, stopping only briefly to weather out the last tails of downpour beneath a large cave formed by bouders. I reached the car in about 13 hours, slicked to the bone and battered to the core but brimming with excitement and wanderlust. Not only did my ankle feel stable, but I had comfortably conquered one of my most prized Teton goals, a free-solo ascent of Exum Ridge.
A Quick Summary & Thoughts on Free Soloing
I waffle between excitement and terror when I think about free-soloing the Wall Street Step-across. If it weren't for that damned notch, soloing Exum Ridge would be be on my annual tick-list. I must have paused at least ten times to imagine Glenn Exum on his first ascent in 1931. Donning oversized cleats and a feathered hat, Glenn completed one of the greatest feats of American mountaineering history without the faintest clue of what lied ahead. For all he knew, the route could have ended abruptly in an unpassable cliff, prompting a dangerous or potentially impossible down-climb. As far as I know he had never climbed the Owen-Spalding either, meaning he also soloed that route, in reverse, sight unseen. As I climbed the Golden Staircase and smeared through the Friction Pitch, I saw his free soul and wide grin questing into the sky. Looking back on the Step-across, I imagined a lone man leaping like a track star through the air, the expanse of Garnet Canyon threatening to swallow his tumbling body below. The passion, dedication and drive it takes to complete a significant mountaineering first ascent is incredible, only increasing by orders of magnitude as you roll back the clock. Without an approach trail, modern climbing gear, route information or emergency communication, climbing the Grand Teton was a far greater ordeal than it is today. The effort required, both mentally and physically, far surpasses my wildest imagination. What Glenn Exum and other early Teton pioneers accomplished is nothing short of legendary. Skill and guts aside, their unrelenting passion is what I admire most, and is what I hope to emulate each time I head into any mountains, Teton and beyond.
---
I believe free-soloing is an art form. I do not do it often, mostly because it is so unjustifiably dangerous. Raw technical ability is a must, but a calm head is equally important. Just as climbing rope-less near one's maximum ability is suicidal, proceeding without proper mental acuity is reckless. Many a climber has experienced degrees of panic when faced with a massive fall, even when roped and well protected. Panic makes it hard to breathe, easy to lose track of the task at hand and even easier to misstep. When roped, to slip is often only to take only a scary plunge – but when soloing, perfection is the only option. There aren't many activities that binary. Imagine taking a test with two scores – 100% or zero. For this very reason, it is critically important to make sure you study well, rest adequately and approach the test with a bulletproof, but not artificial, armor of confidence.
For me, the centered feeling of rope-less climbing parallels that of high-alpine ski mountaineering. Both activities transcend the distractions and trivial frills of modern society. Being completely comfortable in such a naturally uncomfortable environment is my truest definition of peace. Connected to the earth by only toes and fingers, or to snow by only the bases of skis, and being confident enough to preform precisely what I need to do at exactly the right time, teaches me valuable life lessons. Far more than physical prowess, mental mastery is what attracts me to the mountains. Each time I step onto an exposed rock face or steep slope of snow, I learn something about myself. I strive to make fear my companion rather than my enemy. On Exum Ridge I danced with fear. She didn't control me, and I didn't try to push her away. Instead I made peace with fear, and carried on my way.
Trip Statistics:
Starting Trailhead: Lupine Meadows, Garnet Canyon, Grand Teton National Park
Round-trip Distance: 8.9 miles
Round-trip Time: 13 hours (1 hour waiting out thunderstorms)
Total Elevation Gain: ~7000 feet
Sources and Resources:
*http://exumguides.com/over-80-years-of-guiding/

**http://wyomingwhiskey.blogspot.com/p/blog-page_4.html
Recommended Guidebook:
Teton Rock Climbs, Aaron Gams, 2012
Additional Resources:
---
As always, thank you to my supporters Icelantic Skis, Yostmark Mountain Equipment and Chasing Paradise Energy Bars!
A special extra thank you to my readers, family and friends for tolerating and occasionally encouraging my pursuits.
---
DISCLAIMER
This article is written about free-soloing, the art of climbing without a rope. I DO NOT encourage this activity. Any information presented in this article is strictly for informational purposes only. If you decide to attempt anything you read about in this article, you are doing so at your own risk.